A recent comprehensive mapping and consultation initiative, 'Beyond 2024' has revealed important opportunities that could enable the state government to achieve its stated commitment of preserving the biodiversity of our forests for future generations.
See the online 'Beyond 2024' report:
This expert report demonstrates there are sufficient areas available for reservation to protect a viable network of interconnected forests throughout the south west.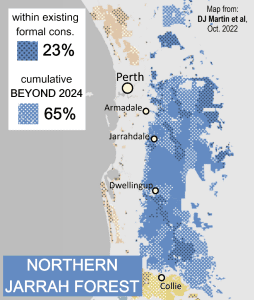 The mapping also highlights again that only 23% of the Northern Jarrah Forest is 'protected' within "formal conservation areas", which include national parks, conservation parks and reserves. (HikeWest note: The adequately 'protected' area reduces to around 15% if the 'formal' conservation parks and reserves outside the national parks are excluded as they remain vulnerable to future mining.)
Without additions to the conservation estate, such as proposed in this report, the relatively small, scattered national park areas within the Northern Jarrah Forest region are destined to become islands of remnant, quality forest habitat surrounded by degraded forest and landscape, a consequence of the ongoing expansion of strip-mining, and likely new open-cut mining. But with the 'Beyond 2024' additions the protected area would be increased to around 65% of the forest.
The author of the mapping, D J Martin, hopes (in part) that it will "give impetus to the formalisation of previously proposed, and future protected area proposals" and "will serve as a resource for conservation planning and discussion" (p.7). Certainly the current Draft Forest Management Plan 2024-2033 – released by DBCA on 18 October 2022 for a two-month public comment period – needs to take account of this timely, valuable mapping contribution to ensure an improved Plan can be developed that offers hope of preserving adequate biodiversity of our forests for future generations.
Additional References
(Posted 30 November 2022.)
View more news updates