Board and Executive
The
HikeWest Board comprises five elected Directors and up to two appointed Directors. The Board may also appoint advisors. The five elected Directors must be members of the Association (either a member of a Member Club or an Individual Member), and are elected for an initial term of three years.  Appointed Directors are not required to be members and are eligible for re-appointment annually after an initial twelve month term. An Executive Officer ('EO') is appointed by the Board and is empowered by delegation from the Board to operationally manage HikeWest and to drive and implement the current
Strategic Plan
set by the Board.
Rules of Association
The current constitution or Rules of Association for HikeWest Incorporated (known as 'HikeWest') were lodged in the office of the Commissioner for Consumer Protection in November 2023. View:
"Rules of Association for HikeWest Incorporated"
.
Strategic Plan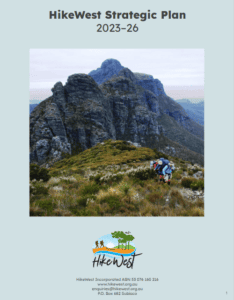 The Plan explains how HikeWest is embracing our vision: To see more people hiking in Western Australia more often. An annual Operational Plan also provides the Board and EO with a checklist of the strategies and key tasks outlined in the Strategic Plan to help identify the near-term priorities and monitor progress toward the overall goals.
View: Strategic Plan 2023-2026
Policies
HikeWest aims to always conduct itself through its policies and in practice in a manner that is true to its core values and behaviours as a peak body as espoused in our Strategic Plan:
HikeWest Code of Conduct
Core Values
Core Behaviours
Open, ethical, professional & accountable in all that we do
Operate proactively as a leader in the bushwalking community
Inclusive and respectful of diversity
Respond to stakeholder needs & aspirations
Respect & love of our natural
bushwalking environment

Advocate for the community
Commitment & pride in HikeWest
Maintain best practice governance & management
Active in embracing change
Build an effective sphere of influence
Policies and positions reflected in HikeWest's advocating and submissions on issues affecting bushwalking and the environment, and in our Risk Management Guidelines, Minimum Impact Bushwalking Code etc are consistent with the principles above and also with the objectives outlined in the constitution (also see 'What we do'). Our Privacy Policy Statement summarises how HikeWest respects your privacy and embraces the principles contained in the Privacy Act.
AGM Minutes & Reporting
Funding
HikeWest is an independent not-for-profit organisation. Our financial base relies on the generous support of our
several official Sponsors
and from other sources, including advertising income and member club levies.
We are also grateful for the support of the State Government who, via DLGSC have provided funding for specific projects, including the inaugural WA Hiking Expo in 2021, and Lotterywest who provided a grant in 2018 to assist HikeWest with the costs of developing this current website.
Media & Disclaimer
HikeWest communicates  regularly with our members and the broader community through this website, via a regular eNews publication and Facebook. Board policies, including our Privacy Policy Statement, provide guidelines on HikeWest's use of these media.