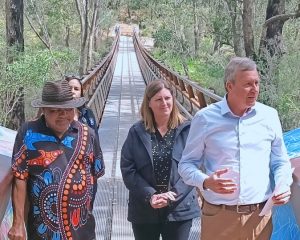 A new section of the 87km Wiilman Bilya Trail near Collie was officially opened on Friday 9 September 2022. The ribbon-cutting event hosted by DBCA – Parks and Wildlife Service was held at the new Kaniyung Wiilman pedestrian bridge across the Collie River.
Special guests (pictured) at the opening included the Hon Reece Whitby MLA (Minister for Environment and Climate Action), Jodie Hanns MLA (Member for Collie-Preston) and Beeliargu Wiilman Noongar man, Joe Northover, Traditional Custodian. Keen bushwalkers from Bunbury Bushwalking Club – including committee members Wendy Lee, Roslyn Tucker & Glenys Brennan – were among the public attendees who enjoyed the occasion.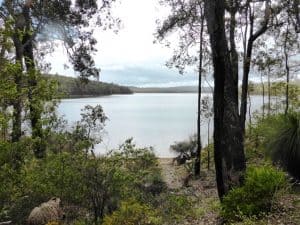 The dedicated walk trail is named  after the traditional Noongar group (Wiilman) and the Noongar word for river (Bilya). It starts and ends in Collie, combining sealed dual-use paths with a mix of dedicated single-track forest trails and minor vehicle tracks and passing mostly through state forest and Wellington National Park. It includes four campsites (Kooboolong, Yakkan, Arcadia, Nyingarn) and also passes through Potters Gorge campground, enabling a multi-day circuit walk around Wellington Dam, or shorter options.
The trail highlights the Collie River valley, including:  wonderful views across the waters of Wellington Dam; views along Collie River from the new 94m-long Kaniyung Wiilman suspension bridge; the nicely mixed forest of yarri (blackbutt), jarrah, marri;  and granite outcrops.
A link to the Bibbulmun Track in the southeast via the Arcadia spur trail enables an alternative 62km loop walk option, combining part of the Wiilman Bilya Trail with the Bibbulmun Track. That option follows the Wiilman Bilya Track across the Kaniyang Wiilman Bridge and then southward to meet the spur trail. The spur trail meets the Bibbulmun Track only 4.5km to the east, where the nearby Lyalls Mill and Yabberup Campsites provide good camping options before heading northward back to Collie on the Bibbulmun Track.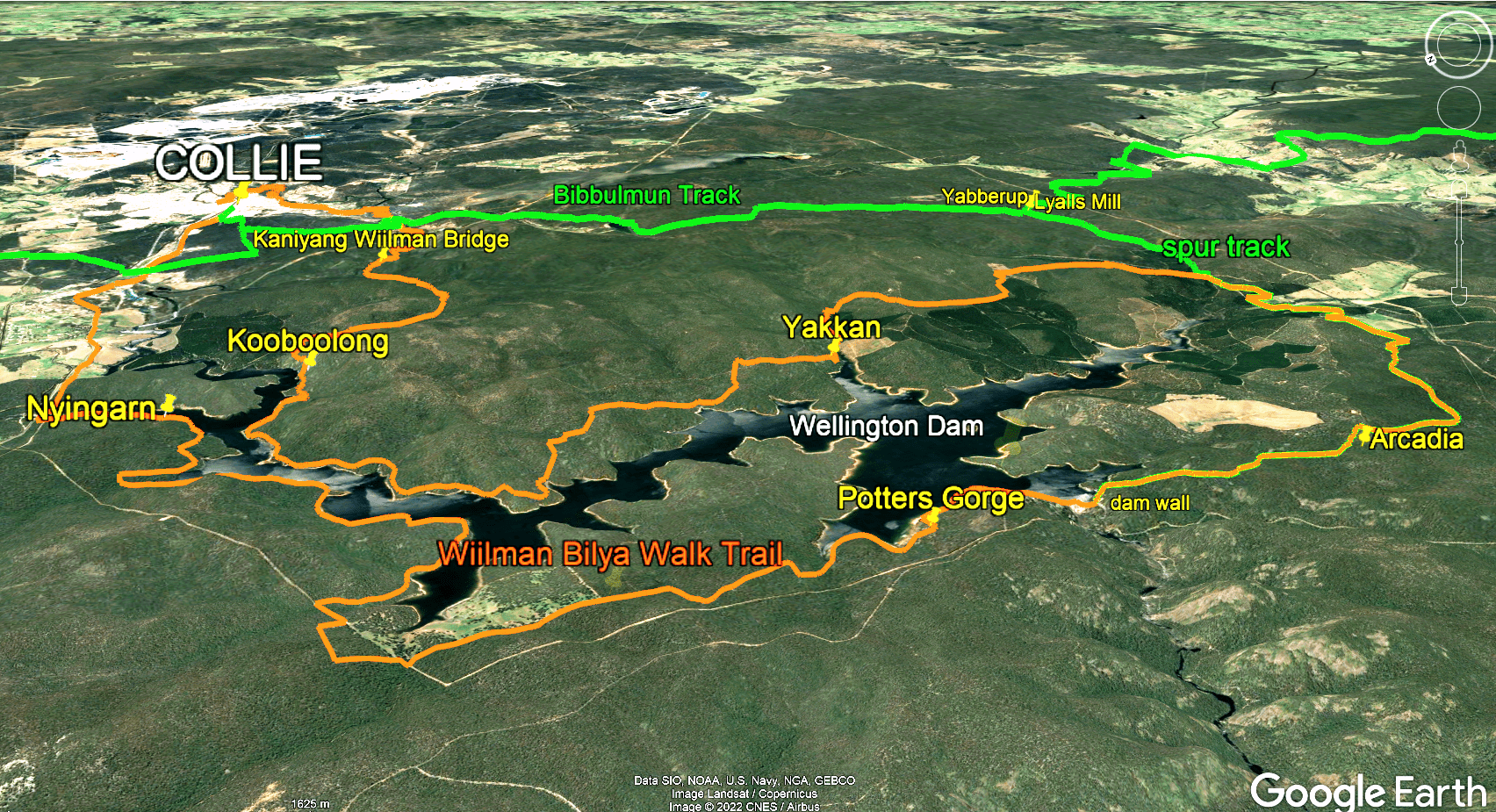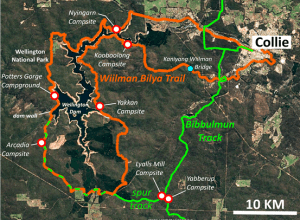 Unfortunately it's not immediately possible to walk the full Wiilman Bilya Trail as an unbroken circuit as the traffic bridge below the Wellington Dam wall is currently being replaced, also preventing walker access. DBCA is working with Water Corp to provide a new, more direct path across the top of the wall. This new crossing will only be accessible in daylight hours and is expected to be open toward the end of 2022. (Check DBCA Park Alerts for updates.)
Also see:
(Posted 11 September 2022.)
View more news updates