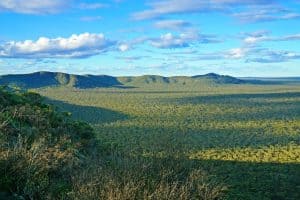 The State Government recently announced the start of a 5-year plan – a "Plan for Our Parks" – aimed at bringing opportunities for extensive new and expanded national parks and reserves to fruition across WA. This included the very heartening news for many, including adventurous bushwalkers, that one of the strategic priorities of the plan is to create a new national park in the remote Helena Aurora Range, about 350km east of Perth and 100km north of Southern Cross.
The Helena Aurora Range (or 'Bungalbin') lies within the Great Western Woodlands and includes the highest point in the southwest of WA outside of the Stirling Range. There are many other ranges in WA similarly formed out of banded iron formation, but the undulating and tortuous landscape of the Helena Aurora Range has no equal outside of the larger ranges over 500km northwest. The Range includes numerous cliffs, caves and a multitude of other impressive rock formations. It also exhibits very high biodiversity.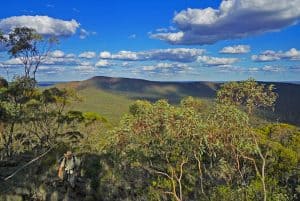 Among the many plant species found in the area there are five unique to the Range, including two shrubs that grow out of the cracks and fissures in the rocky outcrops. There are also tall trees, including salmon gums, on the surrounding plains, and Inland Wandoo grows in small pockets on the upper slopes of the range, like mini-woodlands.
Yet, as recently as two years ago this largely unspoilt area was the subject of very different plans: To create two low grade iron ore mines which would have devastated the Range. Following advice from the Environmental Protection Authority, the mining plans were stopped and the government promised to take the steps needed to permanently protect the Range's unique biodiversity and landforms.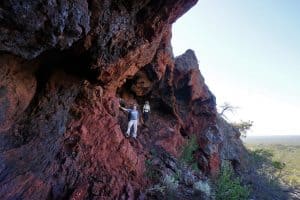 Despite its remoteness, the area beckons suitably prepared walkers to visit and explore some of the best bushwalking opportunities in WA's outback. There are few formed trails here; The walking options are mostly unmarked, off-track routes. But the open woodlands/shrublands enable walkers to progress at a good pace and they offer spectacular and expansive views along the Range and across the surrounding countryside. Helena Aurora Range advocate and long-time bushwalker, Carl Erbrich, has recently published an overview of the walking opportunities on the advocates' website: Bushwalks on the Range includes detailed information (including GPX files) for six walks that straddle the entire range.  Read More
View more news updates