HikeWest is registered with the recently launched Containers for Change scheme.
Helping both HikeWest and the environment is easy:  Simply collect your eligible containers instead of tossing them with other waste into your yellow bin; then drop them off at a convenient refund point near you. There you can donate your 10 cent refund for each container directly to HikeWest by using our scheme ID C10328493  (click here for QR code and bar code). That enables payment of the refund to go directly into our account and from there it will be put to good use for the community in helping us achieve 'Better bushwalking for WA' .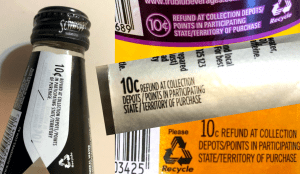 Most aluminium, glass, plastic, steel and liquid paperboard drink containers between 150ml and 3L are eligible for a refund. It's very easy to identify eligible containers by their standard labelling: "10c refund at collection depots/points in participating State/Territory of purchase". For more details about this not-for-profit Australia-wide scheme see Containers for Change.
Your contribution to recycling will not only be great for the environment, but will help support HikeWest's voluntary work into the future.
(Posted 18 Oct 2020.)
View more news updates