The new Trails WA website launched on 5 May 2022 features downloadable maps for more than 800 of the State's trails, including 410 bushwalks ranging from less than 1km to 1000km in length.
Such improved public access to information on Western Australia's many wonderful, developed trails is a welcome and necessary step, especially given the big upsurge in participation through the COVID pandemic, particularly in bushwalking/hiking.
Visitors to the site will find it includes a good number of trails close to Perth. That includes 65 bushwalking/hiking opportunities within an easy driving distance of about 30km from the city centre, plus the five trails on Rottnest Island. Those trails mostly offer nice short walks; about 70% are of less than 1 hour to a maximum of 3 hour duration. Walkers with some experience, looking for a choice of longer walks may be disappointed; only one of those walks is a circuit day walk, the highly popular Eagle View Trail in John Forrest National Park. This reflects the wider situation for bushwalking in Western Australia; almost 80% of the state's developed bushwalk opportunities that are able to be promoted on the site fit into that short walk category. Less than 8.5% are of day walk duration or longer.
ie The total of 410 bushwalks have the following 'Durations':
Less than one hour…… 152 (37%)
1-3 hours …………………… 170 (41.5%)
Half day………………………. 54 (13.1%)
Full day……………………….. 18 (4.4%)
Multi-day…………………….. 16 (3.9%)
HikeWest has long-advocated for more circuit trails of day walk length within easy reach of Perth, given that 80% of WA's population resides in the Perth metropolitan area and is growing. The need to develop more half- and full-day 'loop' (/circuit) trails near population centres such as Perth has been recognised in the "WA Hiking Strategy – Bushwalking and trail running in Western Australia 2020-2030" released by DLGSC in June 2020. A large survey conducted by DLGSC prior to development of that strategy had also indicated that a majority (70%) of recreational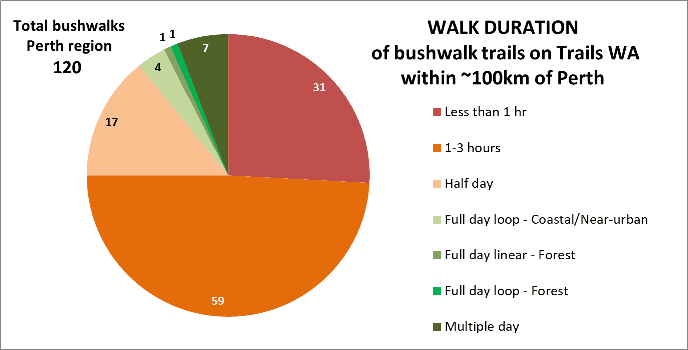 walkers prefer walks reasonably close to home. Eagle View Trail is the only developed circuit hiking trail of at least 15km length within the Perth metropolitan area; its great popularity results in frequent overcrowding, confirming the public demand for more trails of that type, appealing to the many walkers who seek a more immersive walk in nature than shorter walks provide.
WA Hiking Trail Management Guidelines are currently being developed through a DLGSC-DBCA project. Once these are released in 2022, it should become possible for some new bushwalking/hiking trail proposals to be considered and for trail developments to proceed without further major delay. However, this will also depend on trails champions and support emerging from the community, and across government agencies and local government. And to progress some of the best new day walk trail opportunities in the Perth region, where they are most needed, may require a strategic easing by government of some of the current restrictions on recreational access and new infrastructure that apply across the state forests east of the Darling Scarp (due to existing water quality protection policy and bauxite mining operations).
See:
(Posted 6 May 2022.)
View more news updates