Hiking Club of WA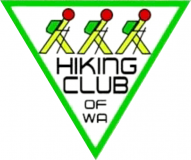 The club organises activities every Saturday throughout the year.
The majority of our walks are between 10-12 km during the cooler months.
Shorter walks - usually 8-10 km and/or Social Activities are held in the warmer months.
Most walks are conducted within 100 km radius of Perth.
There may be up to three weekend base camps held per year
Current age group ranges from 40+ to 70+ years.
A prospective Visitor is required to Register with us and to complete an Easy Walk first, then three walks of choice as a Non-Member, before being considered for Ordinary Membership.
We are basically a friendly walk and talk group.
Our walks are strictly limited to a maximum of 20 attendees.
Hiking Club of WA Location (approximate)