Bunbury Bushwalking Club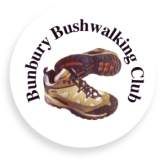 We typically have 1 club activity / month.
Our Day Walks range from 10 -17 kms.
Our Car camps and Back Packs are over several days duration.
Car pooling is generally available from Bunbury City to the walk location.
All our Walk Leaders are experienced guides.
We welcome all visitors including family groups.
We are Risk insured.
Bunbury Bushwalking Club Location (approximate)