A "spectacular" nickel-copper-palladium discovery in early 2020 highlighted the ever-precarious future of our conservation parks and nature reserves. The discovery immediately south of the Julimar Conservation Park (referred to by the miner Chalice Gold Mines Ltd as "Julimar State Forest") high-graded an exploration prospect 26km long and 7km wide, extending  to the northeast across the Park. The current mineral exploration program began in mid-2019 and the first drilling commenced in Q1 2020. Results announced on 16 April 2020 confirmed the discovery and that the mining company would be expanding its activities in the area. In early 2021 the State Government approved the expansion of mineral exploration into the Park for the first time. Future updates on the project will be found on the miner's Julimar Project page.
The miner's reports so far indicate potential for target zones at Julimar from near surface down to ~850m depth. If exploration results prove successful, future mining might be a combination of open-pit and underground. WA's massive Mount Keith nickel mine near Wiluna is to date the largest open-cut nickel mine in the world, 300m deep. No 'world's best-practice' environmental solution can hope to adequately rehabilitate the environment once such mining is over.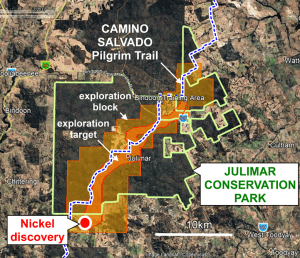 Julimar CP, northwest of Toodyay, is well known to many bushwalkers for the beauty of its wandoo woodlands. Julimar Creek runs through the southeastern area of the exploration block and the route of the Camino Salvado Pilgrim Trail through the area happens to coincide with most of the prospect (see map). The park also plays a key role in DBCA-Parks & Wildlife Service's 'Western Shield' wildlife recovery program and currently hosts one of the healthiest known chuditch populations in WA.
Like national parks, conservation parks and nature reserves are set aside under the Forest Management Plan to protect biodiversity and natural and cultural features. They are generally smaller than the national parks and do not have the same level of protection from competing land uses. They are especially vulnerable in W.A. to the encroachment of mining exploration and extraction which is approved and governed by separate legislation and processes.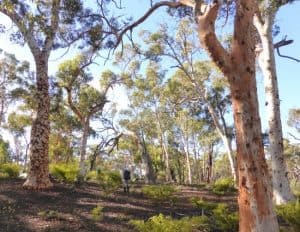 Examples of other conservation parks and reserves, that are familiar to many bushwalkers, and have been, or in the future will be heavily impacted by mining include:  Gyngoorda CP, Gibbs CP and Lane Poole Reserve. Gyngoorda CP previously covered the entire Bannister Hill area near Albany Highway, but was subsequently reduced by more than 60% in the Forest Management Plan so as to accommodate future bauxite mining plans. The Gibbs CP, eastern Darling Range, previously covered an area of the upper Dale River catchment, but was subsequently also reduced by more than 60% to accommodate future bauxite mining plans. Lane Poole Reserve, south of Dwellingup has also been 'adjusted' to accommodate the current expansion of the Willowdale bauxite mining operations.
Posted 9 April 2020. Updated 17 April 2020 and 6 Mar. 2021.
View more news updates