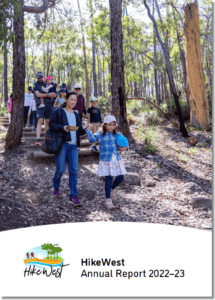 HikeWest 2023 AGM
HikeWest held its 2023 Annual General Meeting on Wednesday 25 October 2023.
We would like to extend our sincere thanks to the representatives from the following clubs who attended in person and online: Perth Bushwalkers Club, Western Walking Club, Action Outdoors Association, Bushwalkers of Western Australia, Great Walk Network, WA Family Bushwalking Club, Bunbury Bushwalking Club, Christmas Island Adventurers and Albany Bushwalkers.
HikeWest Annual Report
HikeWest has published its 2022–23 Annual Report, which includes the President's Report, Executive Officer's Report and audited financial statements. These reports were accepted at the AGM. 
Dave Osborne steps down as HikeWest President
After serving a maximum six-year term as President, Dave Osborne has stepped down from the HikeWest Board at the AGM. For much of his term, Dave was also Acting Executive Officer. Under Dave's capable leadership, HikeWest achieved several significant organisational milestones, including:
the delivery of HikeWest's WA Hiking Expo in 2021 and 2023

the recognition of HikeWest as a State Active Recreational Organisation (SARO) by the Department of Local Government, Sports and Cultural Industries (DLGSC)

the attainment of three-year organisational funding for HikeWest, in line with SARO recognition, as part of the WA Government's Industry Investment Program administered by DLGSC

the development of more than 20 submissions on hiking-related issues

strengthened organisational governance and policy framework.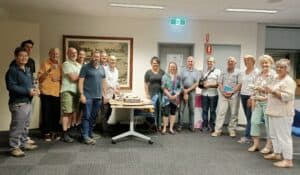 The HikeWest Board is grateful to Dave for his passion, vision and outstanding service to the organisation. His unwavering commitment has been instrumental in HikeWest's growth in recent years. 
HikeWest Vice President Neil Gibson said, "Dave is a pioneer and pillar of the bushwalking community. His tireless efforts and relentless mission to promoting bushwalking and hiking has been an inspiration to us all. The Board wish Dave well in the future and look forward to a continued relationship in a volunteering capacity".
Kathy Miller appointed as HikeWest President
The HikeWest Board is delighted to announce that Kathy Miller, previously HikeWest Secretary, has been elected as President. 
Kathy brings with her a diverse set of governance and business skills. She is an industrial chemist and currently works as a scientific consultant and technical writer. Kathy has a strong interest in science-based aspects of sustainability and conservation. Kathy has served on various committees and clubs, and is also an active volunteer bush firefighter, serving as Captain and Trainer/Assessor for her local bushfire brigade. Kathy lives in the Collie area and is a keen solo hiker, hiking up to 2000 kilometres each year, mainly in southwest WA, with frequent camping/4WD trips further afield. 
HikeWest is looking forward to the continued growth of the organisation under Kathy's leadership.
Posted October 2023
View more news updates