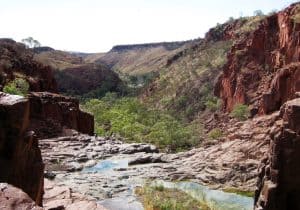 It's the wet season in the Pilbara. Cyclone Veronica has just dumped over one-third of a metre of rainfall across the coastal region. But further inland Karijini National Park and Newman are yet to receive rains needed to soak the still-dry land, recharge the creek beds, get the waterfalls flowing and replenish the waterholes; so triggering the usual annual explosion of plant and animal life.
The region contains some of the oldest and most striking geological structures in the world. The ancient rocks have been folded and eroded, leading to today's captivating landscape of rugged red ranges, tree-lined creek beds, and magnificent gorges, so well-known to walkers, canyoners, and other visitors to Karijini National Park. There's also the  long and rich Aboriginal history, plus unique flora and fauna.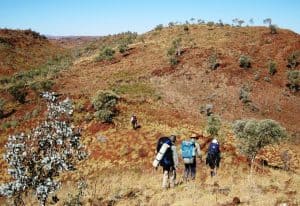 Yet few walkers today are aware of the wonderful opportunities for off-track, wilderness walking in the Ophthalmia Ranges, near Newman, only 140km to the southeast of Karijini.
Most know Newman, 1300km north of Perth, as a remote mining town supporting massive iron ore operations, including the Mt Whaleback mine, the biggest single-pit, open-pit iron ore mine in the world. But experienced bushwalkers will be more attracted to the mostly undisturbed Pilbara landscape to the north of the town;  where they can walk cross-country through the spinifex, taking in panoramic views from the open ridge-lines, and at other times scrambling down into deep creeklines flanked by stunning red cliffs and dotted with beautiful white-trunked gum trees.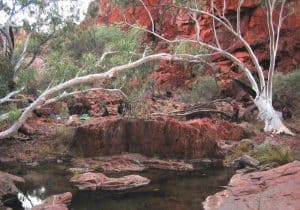 Following the creeks leads to some of the hidden gems of the Pilbara; secluded, picturesque waterholes with cool, shaded waters providing idyllic, well-spaced campsite locations, ideal for a multi-day backpacking exploration of the area.
Access to the waterholes area is by rough 4WD tracks. Many drivers head first to the familiar Kalgan's Pool which featured in the Australian production "The Japanese Story" (2003). The 25km drive in along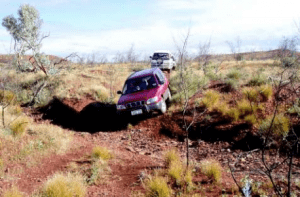 Kalgan Creek and across several shallow billabongs requires off-road 4WD experience. The trip from Newman takes 1.5-2 hours. The main pool and other shallower pools along the creek are located in a scenic gorge with high walls of banded-iron formation. Due to its popularity as a 4WD camping spot it is often not the most peaceful spot.
Read More
View more news updates