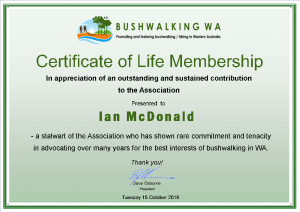 HikeWest's first Life Membership has been awarded to Ian McDonald at the association's well-attended AGM on 15 October 2019.
Ian was the stalwart of the Federation of Western Australian Bushwalkers (now 'HikeWest') over a long period and showed a rare, sustained commitment and tenacity in advocating over the years for the best interests of bushwalking in WA. He served as President from 2005 to 2011 and also several years as Secretary. Under Ian's leadership, the Federation made several key submissions to ultimately ensure continued 'free-range/off-trail' bushwalking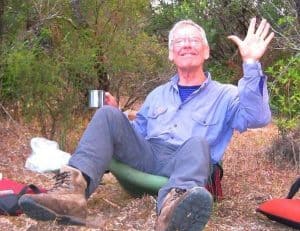 access to the outer water catchments which had been under threat. Among other contributions, he also had a key role in lobbying for continued access to the Fitzgerald River National Park when that was also under threat before today's improved access and infrastructure was installed.
Life Membership is a fitting recognition of Ian's past substantial contribution to the association and his inspiring legacy.
(Posted: 19 Oct. 2019)
View more news updates