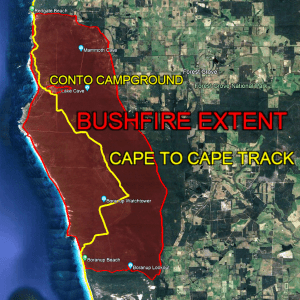 A major bushfire has ripped through at least 78 sq km of the Boranup Forest area in Leeuwin- Naturaliste National Park. The burnt area extends from Boranup Campground in the south to north of Conto Campground.
The fire started on 8 December 2021 and had been contained by 11 December 2021. A heroic effort by firefighters succeeded in saving Conto Campground, now surrounded by ash and little else, but there are no reports yet on the state of the much-visited karri forest.
The Cape to Cape Track is closed between South of Canal Rocks and Augusta until further notice. There is no track diversion in place.
Be smart, stay safe; before planning a walk check the Park Alerts and Emergency WA sites for updates.
(Posted 12 December 2021.)
View more news updates