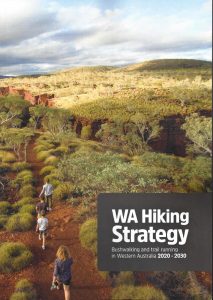 Sport and Recreation Minister Mick Murray has released a 10-year WA Hiking Strategy. This is the first of its kind in the country, focusing on both bushwalking and trail running. The range of recommendations in the document, once prioritised and implemented will help ensure bushwalking grows strongly in the State, supported by quality trails that encourage participation. The State Government has allocated $250,000 toward the funding and development of hiking and trails over the next three years to encourage participation.
In launching the strategy the Minister remarked that "There has never been a better time to launch this strategy, now that COVID-19 restrictions are easing. Our hiking trails experienced record levels of participation over April and May and we want to make sure Western Australians continue to enjoy hiking and trail running."
WA's bushwalkers contributed strongly to the strategy development: The broader bushwalking community participated via the initial online pre-strategy survey and public workshops, and HikeWest was pleased to make a very significant contribution, mainly via the Stakeholders Reference Group, including several additional workshop sessions, ensuring that bushwalkers' views were well represented. Our Member Clubs contributed to an early HikeWest strategy discussion paper, and – following release of the initial draft strategy – our online survey gathered additional valuable feedback from bushwalkers.
A subcommittee of the existing Trails Reference Group (TRG) has been formed to develop the strategy implementation plan including the prioritisation of the strategy recommendations and to identify specific initiatives that will support the plan.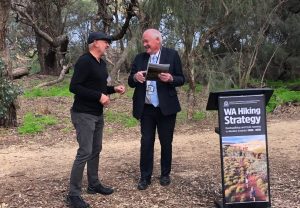 At the launch, Mike Wood was also congratulated by the Minister on his recent appointment as a Member (AM) of the Order of Australia in the Queen's Birthday 2020 Honours List. Mike was presented with a personal copy of the WA Hiking Strategy. He was recognised for his long association with the Bibbulmun Track Foundation and his outstanding contribution to raising the profile of outdoor recreation and outdoor education in WA.
See also:
Posted 24 June 2020.
View more news updates